Detailed information about receiver inputs and outputs

Audio or video receiver is the consumer electronic components which are used in the home theater and the primary purpose of the receiver is that receive video and audio signals from other resources.
Audio input on the a/v receiver allows you to connect audio outputs of the game consoles, cd players, dvd players, HDTV tuners and media center personal computer. Instead of using traditional analog inputs, you can use digital inputs to connect audio sources because it is less prone to the electrical interference rather than analog signals.
Efficient information about analog audio input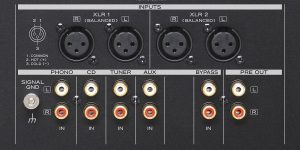 Now a day most of the appliances are using analogue audio input which includes analog VCRs, cassette recorders, older cd players, external radio tuners, older game consoles, newest digital audio sources, DVD-A and SACD.
As everyone knows A/V receiver is hub of the home theater and before you are looking to buy A/V receiver you must follow some tips. Each audio source at your home theater must connect to your audio or video receiver. At the same time video source device must be directly connected to this receiver that could be connected in turn to display device. This kind of the setup can simplify selection of the video source.
Suppose you are looking to use home theater component then make sure that you are having sufficient input on back of your receiver. You must think about the components which you are having before you buy anything. You must remember one thing; inexpensive receiver might not provide your desire results. Digital input is required for getting digital surround sound formats like DTS and Dolby Digital into your receiver. People can connect your receive by using analog audio connections but it might not be optimal solution to certain reasons like lose some signal quality because of interference in analog signal, need to use six cables and must require receiver which is having six analog input on back.
There are two kinds of the digital audio connections are available like optical and coaxial. If you are searching in online like receiver with digital audio input then you might get wonderful results which are useful to know about receiver in detail.
Amazing information about A/V receiver

Setting up home theater system could be daunting task and A/V receiver might combine 3 audio components. If you are having your own theater receiver, you can improve its performance by using A/V receiver. You must familiarize with the receiver speaker setup menu so you can get excellent home theatre experience.
The term basically refers to the amplifier which is having built in radio tuner. When it comes to the home entertainment, receiver plays an important role.
A/V receiver is also known as digital media renderers or digital audio video receiver. The term home theater receiver or audio or video receiver is widely used to differentiate multi channel audio or video receiver from the simple stereo receives via primary function.
It could be classified as the audio frequency electronic amplifier and it come with awesome numbers of features like channels, decoder and amplifier power.